E-Learning is rapidly growing in popularity among organizations of all sizes. It is an exciting, informative, and educational tool that is useful for just about anyone. It is so successful in conveying information because it integrates so many forms of learning. On top of stimulating the eyes and ears with visuals and audio, motor skills are used through the use of interactions, and memory and knowledge skills are tested through the use of quizzes. It has been proven that if more senses are used to receive information then there is a far greater chance of a person remembering and storing that information. That is the reason that E-Learning has expanded beyond just online courses and also into product marketing.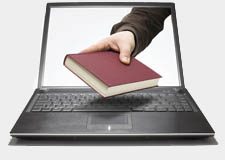 E-Learning is not just for young "techie" kids. Adults with basic technical abilities find it useful as they can run E-Learning modules at their own pace and fit it into their very tight schedules. For people with disabilities E-Learning can be particularly liberating for their lifestyle.
Extra large companies with enormous IT budgets are not the only ones that can afford E-Learning modules. Leading Viking Technologies has worked hard to streamline its process so that it is now available to companies on a tight budget.
Our specialists will give you the information that you need to decide on what is best for your organization contact us today to learn more.